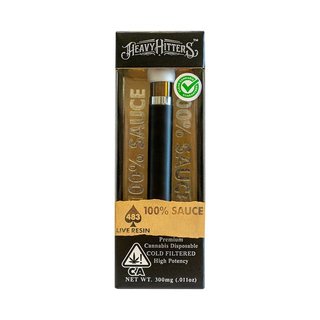 Heavy Hitters (300mg Sauce Disposable)
Heavy Hitters (300mg Sauce Disposable)
Description
Celebrating the 483 compounds found in weed, Heavy Hitters' Live Resin is the coup de gras of weed carts. With the 100% sauce, we've turned up the live resin so that as soon as it comes out of the extractor we age the liquid and keep that special sauce pure with zero additions -- making it taste and feel like your favorite flower strains.
What is True Ceramic? True Ceramic is a cartridge technology that yields none of the harmful wick components of standard cartridges, instead relying on high-quality ceramic throughout the heating element to ensure no harmful byproducts, and an even dose.
What is Cold Filtering? Heavy Hitters' proprietary Cold Filtering technology purifies the oil beyond standard distillation, resulting in a consistent, ultra-potent hemp oil, and a better experience for the customer.