Planting directly into soil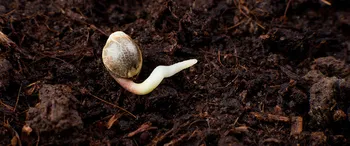 The third method if germination is...
Planting directly into your growing medium prevents having to move seeds when they are at their most fragile. That first root tip is covered with microscopic filaments that are easily damaged. Given that both a cup full of water and moist paper towels are more prone to temperature fluctuations from their environment, planting in soil is a much safer option.
Start by filling pots with a premium-quality soil that has been soaked in water. Many growers also choose to lace the water with a root stimulator. Make a hole roughly 10–15mm deep. This will be your seed's new home. Remove the seeds from their packet and place them into the pre-dug holes. Loosely cover the seeds, but be careful not to compress the soil above the seed too much. The root will struggle to penetrate solid soil, slowing plant growth. Lightly spray the top of where you placed the seed so that your growing medium stays moist.
If you don't like the idea of pre-soaking your soil, you can use a spray to moisten the holes before you plant each seed. With enough moisture surrounding your seeds, you can still encourage a root to develop.
Your growing pots will need to be placed in a damp climate that is within the temperature range listed under our golden rules. After 4–10 days, you should see a young seedling sprout, while the roots will have begun to develop underneath the soil. The entire plant and its soil can now be transferred to a larger pot, where normal growing routines should start.

2021-07-13