420 Ice Cream Parfait Recipe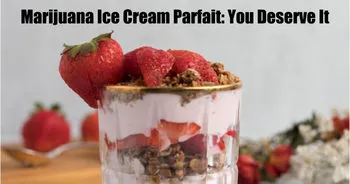 We suggest enjoying a weed ice cream parfait as you practice social distancing this summer. Think of it as a traditional parfait but with ice cream instead of yogurt.
You've watched virtually every interesting episode that Netflix and Hulu must offer, and you've mastered the art of baking sourdough bread. laden a bowl of your favourite sticky herb before you begin and follow this easy recipe. 420 Ice cream Parfait Recipe Instructions Ingredients Buddha's Best Granola Blackout Brownie by the Cookie Factory chocolate candy by CBD Living StackN Trees sauce four strawberries Vanilla Ice cream of your choice Optional: Whip cream, 1-2 tablespoons of butter, a pair of walnuts, and 1 tablespoon of flour. Utensils: Bowl Spoon Cutting knife Prep time: About 10 minutes, add half a serving of Buddha's Best Granola into a bowl and blend in half a serving of the Blackout Brownie. This mixture is your base layer. Think about it as a loose crust. For a thicker crust, you'll add a tablespoon of flour and a pair of walnuts to the mix. Optional: Add a dollop of whip cream. Astroprojection, however, is allowed.

2021-07-13